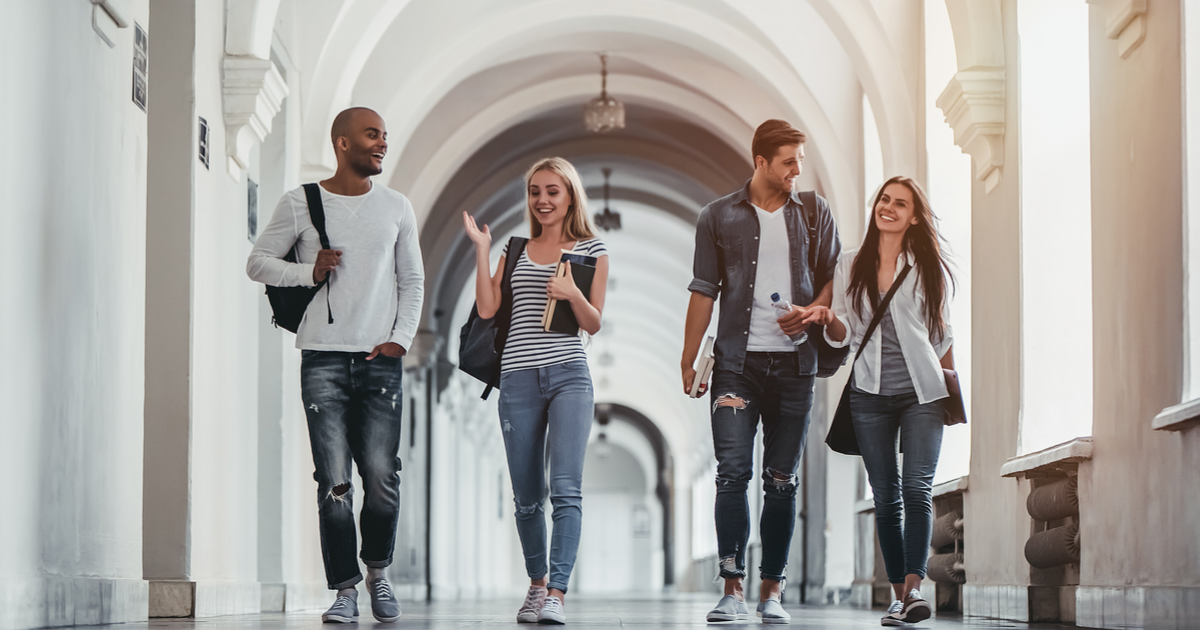 What are the most beautiful college campuses? Well, there lots of beautiful institutions all over the world, and a whole bunch of them are located in the United States of America. Of course, not all of them are in California. In this article our experts have listed the most interesting colleges and universities and added few interesting facts about them. Continue reading to choose the best one.
The List Most Beautiful College Campuses
The list of the most beautiful college campuses was created by our experts. Of course, it is quite subjective but guess no one will argue those campuses are great. There are no acting schools on the list, for example, but still those are traditional institutions we all know. Check it out below.


Indiana: University of Notre Dame
This beautiful campus is located in Notre Dame, Indiana and was founded in 1842. Its building is a great example of strong and great architecture. Its golden dome on the top on the top of the main building is covered with a real gold leafs. Besides that the same gold is used to cover helmets of the local football team.
Iowa: Grinnell College
Iowa is the home for another beautiful college campus of Grinnell. It is located right between Des Moines and Iowa City. For many years this institution is one of the best in the USA in general.
Kansas: Kansas State University
Kansas is the state for university with a gorgeous building located in Manhattan. It was founded in 1863. The building looks like an old European house somewhere in England. Lots of people consider KSU Dairy Bar as the place where you can taste the best ice cream in the entire state.
Kentucky: University of Louisville
Old colonial buildings are always great for campuses and University of Louisville is not an exception. It was founded in 1798 and has lots of interesting facts in its history to proud of. For example, in these walls the first successful hand and artificial heart transplant were held.
Louisiana: Louisiana State University
Louisiana is not just the land of amazing nature but also this gorgeous campus. It is a real face of Creole culture. It is the part of Louisiana State University located in Baton Rouge and founded in 1853.
Maine: Bowdoin College
Maine is the home of Bowdoin College. Founded in 1794 Bowdoin is one of the best institutions in the area. Its mascot is a famous polar bear founded in honor of the first expedition to North Pole led by Robert Peary.


Maryland: Johns Hopkins University
The famous Johns Hopkins University is located in Maryland and was established in 1876. Unofficially it is considered to be the lacrosse capital of the USA. Besides that, there is a museum of lacrosse and National Hall of Fame located right in the JHU campus.
Massachusetts: Williams College
In 1793 in Williamstown Williams College was founded. It is, probably, the best college in New England. Lots of its students became famous and successful in various fields of knowledge. For example, there are seven Pulitzer Prize winners and even a president. Yes, James Garfield is the alumni of this college.
Michigan: University of Michigan
Originally founded in Chicago in 1817 University of Michigan was relocated to Ann Arbor 20 years later. It is one of the most popular universities in the country. The history and the list of alumni is more than impressive.  
Missouri: Washington University in St. Louis
Do you want to know what institution was the location for presidential and vice-presidential debates more than any other in the US? It is the famous WashU that was founded in 1853 in St. Louis. The very first television debate also was hosted here.
Montana: Carroll College
If you like rock climbing, you should definitely check Carroll College founded in 1909 in Helena, Montana. There is a special boulder wall where you can practice and improve your skills.
Nebraska: Creighton University
One of the most interesting scholarship programs is offered by Nebraska located Creighton University in Omaha. Founded in 1878 these days the institution offers a special scholarship for a student to become local mascot Billy Bluejay. An interesting offer to think about. And of course, you will study in of the most beautiful campuses in the US.
Nevada: Sierra Nevada College
Probably, the youngest institution on our list. Sierra Nevada College was founded in 1969 in Incline Village. This is the place where any person who loves nature will feel like at home. Absolutely amazing architecture mixes with environment perfectly. Besides it is really near the one and only Lake Tahoe.


New Jersey: Princeton University
Another legendary institution on our list. Princeton is the home for one of the most famous universities on the planet. Founded in 1746 it is also one of the oldest in the US. There is no need to talk about all the benefits of this institution unless you do not know about its gorgeous architecture.
New Mexico: New Mexico State University
The beautiful architecture of New Mexico is perfectly represented in New Mexico State University campus. This institution was founded in 1888 in Las Cruces. What is another great thing about this institution? It has a unique Chile Pepper Institute. It is the place where green chile sauce is taken so much seriously that it became a whole science.
Bottom Line
Yes, there are lots of interesting and gorgeous places to study at. But we should not forget that the most valuable thing is still the quality of studying. Our experts are graduates of various institutions but the level of their knowledge is so high they can deal with various academic tasks. In case you have any troubles with your writing, our professional writing team is to your service. Just feel free to call us anytime to order the best papers with on time delivery and reasonable price.